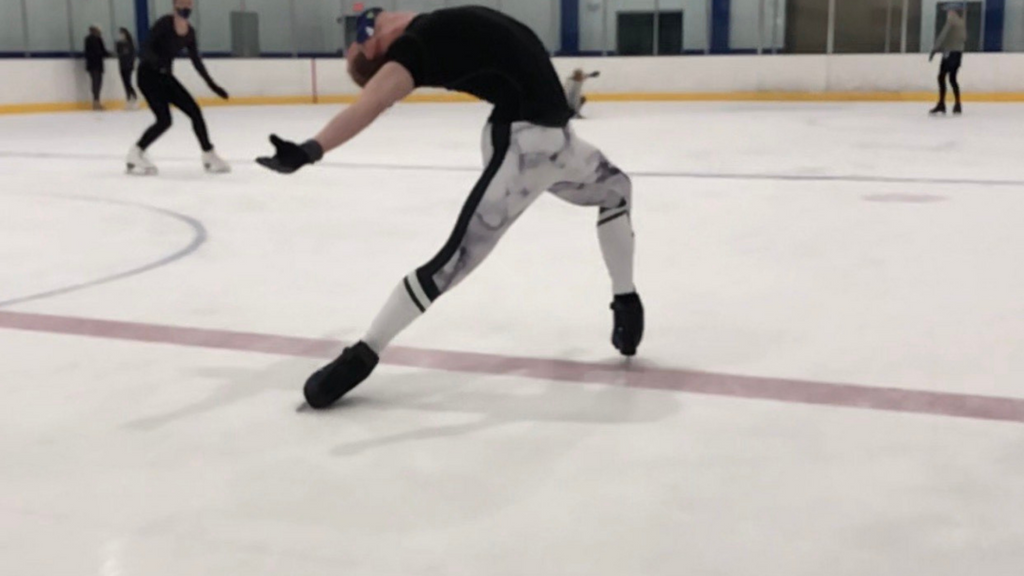 Meet Tyler Thames,
A talented, hardworking adult figure skater with big goals. Tyler is also a Pinkskate Brand Ambassador and we are so excited to showcase him as our first athlete feature story. You can get to know a little more about Tyler by reading his complete interview listed below.
Pinkskate: When did you start skating?
Tyler:   2017
Pinkskate:  What drew you into the sport of figure skating?
 Tyler:  There are a menu of things that drew me to the sport of figure skating, like the feeling you get when you see a skater connect with their program in such a way that the only response your body can give are chills, emotions and thunderous applause. The athleticism, strength, grace, passion and artistry required to be a top skater, to name a few things that drew me to skating. You have to be a true artist to be vulnerable enough to break down your walls and uncover wounds each time you compete with a personal program and that, to be a true artist, was the catalyst for skating. Also I loved the designs for the costumes and how everything sparkles on the ice, it's so mesmerizing. When you step on to the ice and hear the ice crunch, when you hear your edges roar as you're gliding over freshly cut ice, and all you feel is this guttural rush energy and urge to give it your all on the ice. 
Pinkskate: Why are you passionate about this sport?
Tyler: I've always wanted to skate ever since I was four, every time figure skating came on the tv, I was glued and wanted to compete on the Olympic ice. I've had countless dreams of being a figure skater. I've been through some pretty traumatic events in my life that not many people are aware of and I try my hardest to use that as a reflection of how far I've come in life. I wasn't able to start skating until three years ago after a loved one had committed suicide. I don't skate just for myself, I skate to carry on the memories of loved ones passed, to hopefully inspire and encourage people of all walks of life that it's never too late to start chasing your dreams and make a difference. Life is short, life happens and you have to find the rainbow or stars through storms and darkness. 
Pinkskate:  Are you a recreational figure skater or are you a competitive skater?
Tyler:  I'm a competitive skater with big goals
Pinkskate: What goals have you set for yourself and have you achieved any?
Tyler: My ultimate goal and dream is to be on Team USA, compete and be on the podium at the 2026 Olympic Games. I also try to have yearly goals and smaller goals for competing and testing. Some of my bigger goals are to test to senior moves in the next two years with distinction or honors and senior freeskate in three years. I've currently passed my freeskate test with distinction and honors in two of my moves in the field test. I've accomplished the goal of starting to compete because we all start somewhere, right? 
Pinkskate: What's the biggest hurdle you've overcome to continue skating?
Tyler: One of the biggest hurdles I've had to overcome is that it's ok to ask for help when you're struggling. It doesn't matter if I'm struggling with my mental health, struggles on or off the ice, and even if it's not skating related. I'm very grateful for the support system that I have with my family, coaches and chosen family.